This Spring, Long Island has been unusually wet and cool and for most of us with established landscaping there should be no need to irrigate on a regular schedule. I am still actively turning systems on, making repairs, and installing new lawn sprinkler systems. If your system has been turned on and summarized and you see your sprinkler system running during rainy days, your rain sensor may no longer be working or your controller is in the bypass mode. Most rain sensors only last 5- 10 years at the most and should be checked and changed if not working. The cost to replace will be offset by the savings in water, nutrient loss, and plant health.
To much water in the soil can be almost as bad as no water during hot dry weather. You can also turn your controller to "off" until the good weather returns. Another great feature of the Hunter Pro-C controller is the rain delay feature that you can easily program. If you have an older controller or you want to move into the 21st century with the latest and best technology then consider upgrading to a Smart Controller. Hunter has introduced the Hydrawise controller that can automatically adjust your controller for rainy days, hot days, and almost any other requirement you may have. With the Hydrawise you can eliminate the rain sensor as the controller uses weather data from nearby airport.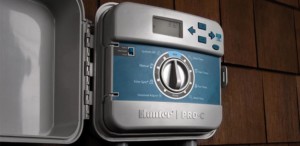 The official start of summer is only 15 days away and hot weather  will soon follow. Your controller is the brain for your entire system and programming is crucial to a healthy landscape. Watering for June, July and August can be 50% more than April and May. Please check your program frequently and make adjustments accordingly.
If you have any questions or would like to schedule an appointment, please contact us at Irrigationspecialist@rainrich.com or click here. You may also visit our website to learn more by clicking here.
Rain Rich Sprinklers has been serving Long Island for 35 years and prides itself on providing outstanding service and the best value.
Rain Rich "Creating Rain For Life"