Are you having problems with water and flooding in the basement of your Long Island home or property? Do you have puddles in your yard that take too long to dry up? Water in the basement can lead to mold, and standing water in your yard can be a breeding ground for mosquitoes.
According to the New York Times, today makes 11 days out of 23 in October with measurable rainfall!
The damage and inconvenience caused by these rainfalls can be reduced and prevented. Rain Rich has been designing and installing drainage systems for many years and with our knowledge and experience we can implement a property saving system for your home or business.
Here are a few of the flood damage prevention systems I recommend:
1. The rain water that comes off your roof and drains at the foundation of your home is a leading cause of water draining into your basement or cellar. I recommend connecting the leaders, downspouts, and gutters to 4″ piping and move water away from your home.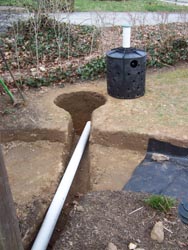 2. Install a drain system around your home and move rain water away.
3. Install dry wells to move water into the ground and safely away from areas that flood.
4. Install a system in your basement that captures water and pumps to the outside and away from the home.
5. Cover window wells to prevent rain water from filling up and spilling through windows.
Excess water on your property causes property damage, is a health hazard (mold), and a safety risk. Rain Rich can provide a long term solution for all your water problems with the use of catch basins, drains, smooth wall pipe, and dry wells.
Have Rain Rich give you a FREE quote by calling us at (631)423-2211. You may also contact us via email at irrigationspecialist@rainrich.com.
Rain Rich ~ Creating Rain For Life ~