Tree Rejuvenation
TreeCore continually recharges the water available to your trees and contains organic properties designed to reduce tree and plant stress:
• Use TreeCore for transplanting and rejuvenating existing trees – reduces transplant stress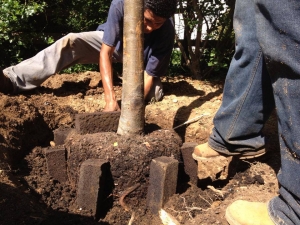 • Treecore captures rainwater in between watering – over 4" of rainfall
• Treecore can be set both horizontally and vertically creating an enriched, aerobic environment that will increase beneficial micro-organisms
• Treecore is easily installed using only a shovel – no other tools required
• Treecore brings valuable oxygen to the tree's roots
• Treecore is able to hold up to 8x its weight in water for enhanced water management and reduced overall water use
Holds up to 10.5 lbs. of water per ft. at maximum Water Holding Capacity
• Encapsulates fertilizers and water, serving as food storage reservoirs in the soil
Root respiration occurs even when media is fully saturated
Hydrophilic media enables enhanced water management and reduced water use with ready access to water, air and nutrients to support lush trees
TreeCore by WaterGrip is available in (2) two sizes:
• 3" diameter x 24" L – recommended for new trees
• 5" diameter x 24" L – recommended for mature trees and restoration projects
For more information regarding Tree Rejuvenation call 631-423-2211 now and speak to one of our service representatives. For your free consultation click here.