Pipe, Cable & Utility Location Services
Rain Rich has specialized location services for Long Island residents that will uncover buried wires, pipes, utilities, cables and water lines that are no longer marked and visible. Rain Rich has the equipment, technology, and experience to find and locate before digging and construction begins thereby saving contractors additional expense and aggravation to repair and replace. New York State law requires that all utility wires and pipes be marked in advance of digging.
Having a problem finding those buried underground wires, pipes or utility lines? Trying to find where that leak or broken wire might be.
Rain Rich is now equipped with the Metrotech VM-850, ground penetrating radar which has proven to be an excellent tool in locating and mapping underground utilities and pipes using an electromagnetic pulse frequency.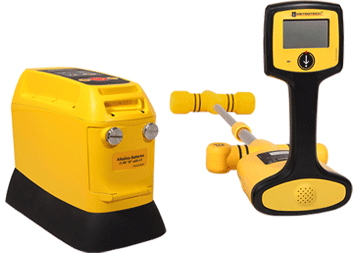 Benefits include:
• Non-destructive & non-invasive.
• Determines the depth from the surface.
• Provides exact location of objects and accurate depth measurements.
• Works independently on virtually any terrain or surface, including soil, rock, sand, gravel, pavement, concrete and asphalt.
• Obtains quick data results over vast amounts of area.
The key to any successful project is to plan ahead and locate all underground assets before commencing. This prevents damage to existing underground services, reduces costly repairs and delays, thus adding value to your project.
Our pipe and cable location services can be used for many projects. Whether it's planning a new renovation or trying to find that bad wire underground, our state of the art equipment, Metrotech VM-850 includes a distance sensitive guidance system to provide accurate easy locating.
• Locate all utilities including gas, electric, sewers, concrete pipes, water, drain, telephone, and PVC piping.
• Broken wires, bad splices, nicked wires.
• Leak detection for broken water pipes.
We recently completed a repair for a client that had a problem with their tennis court lights. The circuit breaker had shut off and would not reset. The electrician had determined an issue with the wire buried underground and could not locate the problem. We evaluated the situation and our experienced crew tracked and located the high voltage wire and located the bad splice. All tennis court lights are now working. Our customer is very satisfied and happy because we saved them thousands of dollars in replacing this 200′ heavy duty direct burial wire.
To learn more about the pipe, cable and utility location services, call our Long Island office at (631) 423-2211 or click here for a free estimate and let us handle your special project.