Late August is the best time to improve and nurture your lawn. The warm days and cool nights are perfect for starting a new lawn or renovating an existing one.   The Rain Rich program is simple and inexpensive for cultivating your lawn and is also the same program used by golf courses and athletic fields.
The Rain Rich program consists of the following:
1. Core aeration
2. Soil test for pH and nutrients
3. Adding top soil if needed to fill in holes and ruts
4. Liming of soil to raise PH
5. Top dressing with organic compost to introduce biology
6. Fall fertilization
7. Seeding with Long Island superior blend of grass seed
8. Proper programming of irrigation controller for germinating new seed
9. Rain Rich manages your lawn care right up to Thanksgiving
Lawn aeration is a MUST for making your lawn healthy. For Long Island soils and grasses, it is important to aerate 1-2 times per year with now being the optimum time.
Listed below are a few of the major benefits received from aerating your lawn:
Allows oxygen to infiltrate the soil and the root zone permitting it to "breathe" and stimulate growth.
Organic fertilizers and nutrients access to the root system.
Tight, compacted soil is loosened allowing roots to grow.
Enhances heat tolerance.
Increases the lawn's drought tolerance and improves its overall health.
All of our programs are customized to your specific property and are guaranteed for your satisfaction. Rain Rich can provide all or part of this program, and we recommend an organic approach for long term benefits for you and the environment.  For a free analysis and quote, CLICK HERE, call us at 631-423-2211 or email us at irrigationspecialist@rainrich.com.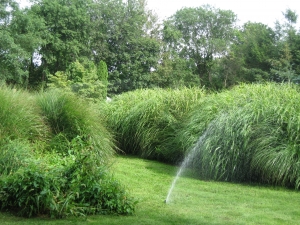 Rain Rich Sprinklers has been serving Long Island for 32 years and prides itself on providing outstanding service and the best value.
Rain Rich~Creating Rain For Life