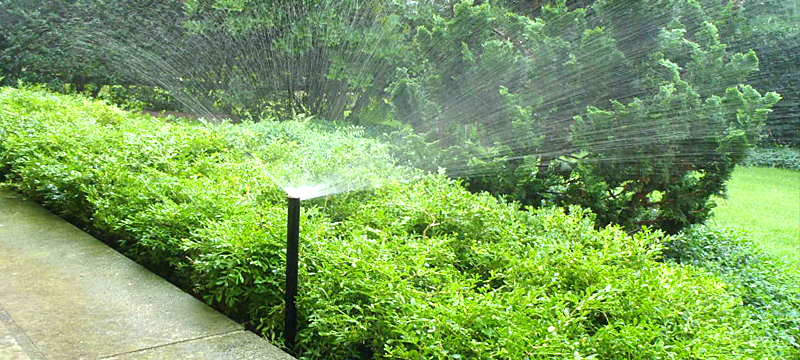 Lawn Sprinklers
At Rain Rich we design and install sprinkler systems for residential and commercial properties of all sizes. We guarantee 100% coverage of your Long Island property by using state-of-the-art design and engineering. Our custom solutions will enhance the beauty and value of any property and will eliminate the need for time-consuming hand watering.
Professional Design
Any good sprinkler system starts with the design. Our systems are designed to maximize the health of your landscape by:
Determining the specific needs of each area of your landscape, including turf, plants, annuals, perennials, shrubs, and trees. Areas with full sun and "thirsty" plants are planned for more water, shady areas receive less.
Selecting the appropriate sprinkler heads and locations to ensure uniform coverage. Proper overlap is essential to maintain a high-efficiency system. If sprinklers are spaced incorrectly, some areas will need to be over-watered just to keep the lawn green.
Utilizing the latest in water conservation equipment such as drip irrigation, rain sensors, computerized programmable timers, flow control zone valves, and back flow devices.
Engineering
Rain Rich technicians implement your design with surgical precision. Following the guidelines of the National Irrigation Association and using the latest tools and equipment, we install commercial grade system components without leaving a mark on your landscape.
Our technicians are completely familiar with the codes of the water districts for each village, town, and county. We can provide the appropriate permits, schematic drawings, or blue prints  upon request to meet local requirements.
In addition to the installation, we continue to maintain systems year round from spring turn on to winterization. We monitor the system and fine tune coverage and timer settings when and where needed.
Experience
Rain Rich has installed over 5,000 lawn sprinkler systems over the past three decades in both residential and commercial properties. Take a look at some of our designs and read over these testimonials from satisfied customers.
In addition, we coordinate our efforts with other trades including architects, landscape architects, designers, landscapers, builders, and gardeners. It is a testament to the quality of our service that these same experts recommend us to their customers.
Call our Long Island office today at 1-631-423-2211. For your free consultation click here.