HosEnclosure
Rain Rich is now offering installation of a new product HosEnclosure for your Long Island home or property! There is a great new product on the market that hides the hose and connections underground. It is great for areas where you do not want to see the hose such as along patios, driveways, and pools. It saves space and is always readily available for use. It's simple & easy for us to install and can be connected to most homes and businesses.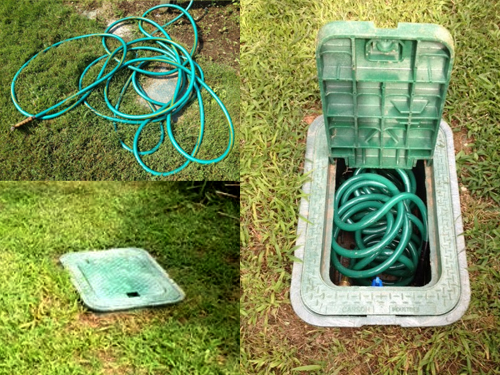 Features and Benefits include:
• Convenient – Hose always readily available for use, easily returned to storage
• Saves space – Does not take up space or clutter patio areas, driveway, garage or yard
• Eliminates clutter! Stores the hose out of sight when not in use
• Durable – Molded high-density polyethylene provides long-lasting strength
• Hinged lid with built in handle for easy access, strong enough to withstand pedestrian and light incidental traffic when closed
• White polyethylene floor discourages creatures from going inside
• Includes hose and nozzle
Don't delay, call 631-423-2211. For your free consultation click here.