Fall is just a few short weeks away (9/22) and the optimum time to improve your lawn. Grass is a cool weather plant and the warm days and cool evenings brings new life to a stressed out lawn from a hot and humid summer. Rain Rich has a successful program for getting your lawn back into great shape and is the same method used by many Long Island golf courses and athletic fields.  Our affordable lawn care program is simple and having a great looking lawn adds value to your home.
Here are 10 tips for improving your lawn this fall: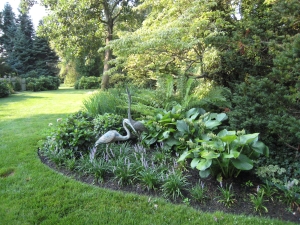 Test your soil for pH and for nutrients. Long Island soils are very acidic which is not good for lawns. Too acidic a soil and grass plants cannot absorb fertilizer.
Lime your lawn. We recommend that lime be applied 2 -3 times per year until pH is in the 6.2-7.0 range.
Core aerate your lawn. Removing plugs from your lawn relieves compaction and opens soil to accept water, fertilizer, and air.
Top dress with Compost. Compost has organic matter, beneficial bacterial and fungi. Watch this short video about compost.


Benefits of Composting

Enriches soil, helping retain moisture and suppress plant diseases and pests.
Reduces the need for chemical fertilizers.
Encourages the production of beneficial bacteria and fungi that break down organic matter to create humus, a rich nutrient-filled material.
Reduces methane emissions from landfills and lowers your carbon footprint.
Top dress with topsoil. Fill in uneven areas with a quality loam soil.
Fertilize with a quality brand slow release fertilizer. Consider fertigation as an organic and natural approach with little or no waste.
Apply a quality blended seed. Consider sunny areas vs. shady areas. Hard clay soils vs. sandy loam soils. A preferred blend consists of blue grass, rye, and fescue.
Proper programmings of irrigation controllers are critical to bring life to new seed and reestablishing your tired beat up lawn from the summer. Watering several times per day for short durations is best to increase germination rate of new seed. It is important to keep seed moist all the time until germination.
Mow your lawn with a sharp blade, at a 3" height, and at least once per week.
Keep leaves and debris off new lawn. Sunlight is critical and wet leaves lying on top of new grass seedlings will cause damage and undo your hard work.
The Rain Rich Lawn Care Program is customized to your specific property and guaranteed to your satisfaction. Rain Rich can provide all or part of the program- you decide. We recommend an organic approach for long term benefit and to care for our environment. For a free analysis and quote, please click here or call us at 631-423-2211.