Lighting Repairs
Repair Services for Your Long Island Landscape Lighting System
Rain Rich provides excellent lighting repair services for all your Long Island property needs. The next time you have a landscape lamp burn out in your tree don't worry call one of our outdoor lighting technicians to take care of this lighting problem in no time at all.
Outdoor Lighting Repairs Include: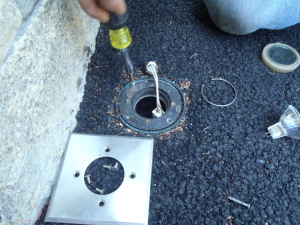 Replacing dim or burned out light bulbs
Repairing broken switches, severed wiring, and burned out transformers
Cleaning lenses, repairing, straightening and adjusting fixtures
Trimming and minor pruning around shrubs, trees, and large plants that block lighting
Checking lighting timers and dimmers are set right
Installing additional lighting to improve nighttime lighting around the property
Rain Rich understands the importance of maintaining your existing outdoor lighting system, which is why we pride ourselves on our lighting services. Whether we installed it or not, we can make sure your outdoor lighting system is doing its job efficiently and safely.
Get started today by clicking here or calling 631-423-2211.