The official start of winter is only a few weeks away and with everyone busy preparing for holidays, I have put together the annual Rain Rich winter tips check list to help you prepare. Preparation is the key to saving money, time and aggravation! Take a few moments to review and call us if you need assistance.
Please consider the following:
Winterize your lawn sprinkler system!
Shut off valves to outside hose bibs and drain them and then cover them.
Make sure your oil tank fill is easy to find and will not be covered up by snow. Place a 3′ marking stake at the cap.
Have your heating system serviced. Change filters for oil and air. Make sure your oil tank is easily accessible. Make sure deliveries are on schedule and you are not "lost" in the system.
Have your snow blower ready to go and easy to access. Have gas containers filled and ready. Start your snow blower once a week to make sure it will work! Have snow shovels available now, get them before they sell out.
If you do not have a snow blower and you cannot shovel snow then have a local snow removal company contracted to take care of your home. Remember that wet snow cannot be easily removed with a snow blower or a shovel. When wet snow freezes it becomes slippery and very dangerous.
Have plenty of ice melt available and use the least toxic ice melt that is available.  We recommend Mr. Magic or Safe Paw. Greenlawn Hardware carries these items.
Call your local supplier now and get a stack of firewood for your fire place or wood burning stove.
Have birdseed handy and throw on walks and driveways. It will melt the snow, make slippery areas stable, and take care of our feathered friends.
Check thermostats to make sure they are working properly.  Switch to a programmable thermostat to save money and energy. They pay for themselves in weeks.
Make sure all heat vents are not blocked. Make sure baseboard heat is not blocked; clean all around it to allow air to flow through it.
 Humidifiers are great. Purchase a portable humidifier or have one installed. If you already own one, check to make sure it is clean and check duct work and have it cleaned professionally to prevent dust and mold from circulating throughout house.
Have all windows and doors weatherproofed.
Cover the AC condenser outside. Keep leaves, debris, and moisture out.
 Have your gutters cleaned! Check all gutters, leaders, and drains to make sure they are working properly. You do not want water to back up and enter your home.
Purchase and install a heating system for roof edge, gutters, and leaders to prevent ice from building up on your roof and gutters and melt into your home! Rain Rich can purchase, design and install.
Check all window wells to make sure they are cleaned out and covered. You don't want water and snow to accumulate and drain into window wells.
Caulk and seal windows and doors.
Check basement drains to make sure they are not blocked and are working properly. If you have a sump pump then make sure that it works and that the exit pipe is also working.
Install a water alarm and place by boiler, water heater, in the basement or anywhere that water can leak and accumulate. They are very inexpensive and you can purchase from Rain Rich. We have in stock for $24.99 each.
Finish yard clean up. Leaves on the lawn block out sunlight and allow mold to grow killing the grass beneath it.
 Plumbing: Insulate all exposed piping in crawl spaces, basements, attics, garages, and outside walls.  Use electrical heat tape and insulate the tape. Plug in the tape when weather is extreme and the wind is howling. Rain Rich can provide these services.
Cover up or drain down all hose bibs, sill cocks, and exterior faucets.
Insulate Insulate Insulate! It is cheap, inexpensive, and effective. Insulate hot water tanks, pipes, and exterior outlets, interior outlets on outside walls, switch plates, and gaps in exterior siding. Use foam wraps, pipe wraps, heat tape, blankets, and inexpensive foam sealing gasket. Not only will it save you grief and damage it will also save you money!
Check your ROOF for missing and or damaged shingles. Check flashing in and around chimneys and other places where the roof meets a wall or projection.
Check your chimney, fireplace, and wood burning stove for leaks, drafts, and obstructions. Have it professionally cleaned and check the draft to make sure it is working properly.
Have batteries on hand for flashlights and radio in case of loss of electricity. Also have plenty of candles and matches.
Make sure you use windshield washer full strength in your car and not water and diluted windshield washer fluid. And be sure to change your wiper blades! For your car have an ice scraper, deicer, shovel, jumper cables, tow ropes, flash light, emergency kit, and a blanket.
Cover all outdoor furniture and put away. Put away all outdoor tools, tables, umbrellas, toys, etc. They will last longer and be in better shape next season. You do not want these items blowing around in a storm as they could damage your home and property.
Install a Carbon Monoxide alarm. If you already have then change the cartridge.
Check your smoke alarm and make sure they work. Change the batteries each year on your birthday. Happy birthday!
Check all cable TV connections. Make sure all outside connections are not weathered and or damaged by rodents.
Change washing machine hoses. I know this has nothing to do with winter however the hoses are only good for a few years and should be changed due to wear and tear. Place a water alarm on the floor next to the washing machine.
Clean lint from dryer duct work. You know it's a mess in there and your dryer will operate much more efficiently if you clean it.
Check on elderly neighbors and relatives. Follow through with this list for them. Help keep them safe and secure.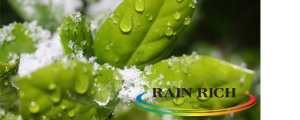 Rain Rich encourages you to follow our list and eliminate most of the problems that may occur. If you need help with any of the above or would like to discuss then feel free to contact me at 631-423-2211 or email us at irrigationspecialist@rainrich.com.  Have a safe & warm winter!