It is time to prune your trees!
It's February and its cold on Long Island with snow on the ground and probably not the best time to be outside! However, it is a good time to take a look at your landscape and begin the process of caring for your trees.
According to the experts in arboriculture and Cornell Cooperative Extension the best time to prune trees, especially deciduous trees, is between President's Day and April 15th (tax day). There are several reasons for this and they include the following: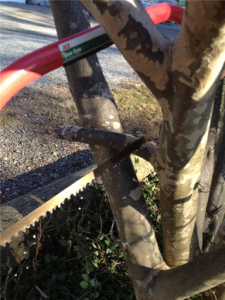 Pruning your trees now improves their health! Removing dead and diseased wood decreases likelihood of the entire tree from illness.
Trees are dormant and branches and structure are easily seen and pruned.
Pruning trees now allows them to heal much faster once spring arrives.
Pruning young trees now allows them to grow into desired shape and structure.
Other plants on Long Island that require pruning are evergreens, broad-leaved evergreen shrubs, and smaller woody plants. Pruning trees and plants requires a real understanding of the plants to be pruned. Pruned the wrong way or at the wrong time damages the plant and causes stress. Stress leads to disease. Knowing which plants flower and when is vital to a great looking landscape! For example: Rhododendrons can be pruned at any time and dead heading flowers will improve next year's abundance. Hydrangeas should not be pruned except to remove dead wood.
I strongly recommend that you hire a professional tree company to prune all your trees. Professional tree companies are licensed and insured. Arborists have extensive training with ladders, ropes, and chain saws as well of the proper techniques on pruning and maintaining trees. Most professional tree companies have all the certifications that qualify them to provide this service.  Tree work is dangerous business and should be left to experts. If the company you hire is not licensed and insured then you are responsible for their care when they are on your property! Caring for and maintaining your trees increase the value of your home! Creating a relationship now with your professional tree company allows for preventative maintenance and will reduce your overall costs.  Check with the Long Island Arbor Culture Association for a qualified Tree Company in your town.

Rain Rich Sprinklers has been serving Long Island for 30 years and prides itself on providing outstanding service and the best value. Rain Rich ~ Creating Rain for Life~
Please call at 631-423-2211 with any questions or concerns you may have or click here to contact us.