September 22 – The First Day of Fall
As the days become shorter and cooler on Long Island, now is the best time to consider installing an outdoor lighting system or servicing your existing lighting system. We are excited to announce that Rain Rich now offers LED Landscape Lighting system controls where you can automatically change the colors of your lights.  You can make these changes right from your IPhone or Android.  A great addition for the holidays.  Learn more about LED Landscape Lighting here: Landscape Lighting Color Lights
Installing a landscape lighting system now provides safety, security and beauty through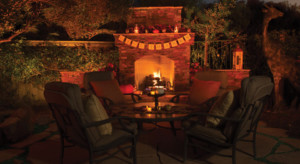 out the fall and winter. Illuminating steps or a walkway will help to avoid falling on the ice in the winter.  Security experts recommend lighting the area around the home as it is a proven fact that most burglars and intruders will move onto an unlit property.
If you have an existing landscape lighting system, then I highly recommend that you switch bulbs to LED. LED will cut you electrical costs by 90%. That is a significant savings.  LED is a non-toxic and environmentally-friendly product.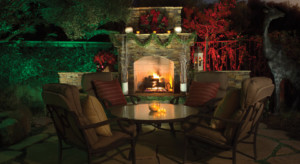 Cleaning up connections using water proof contacts and gel will insure your lights work when they should. Changing switches to programmable timers and hand held remote controls provides additional methods to save money and convenience. For example; if you have something you would like to see in the middle of the night, you can turn on the lights without getting out of bed!
If you require assistance or would like to discuss any of the above please do not hesitate to call us at (631) 423-2211 or visit our website at www.rainrich.com.
Rain Rich Sprinklers has been serving Long Island for 34 years. Rain Rich prides itself on providing outstanding service and the best value.
Wishing you a safe and warm fall season! Rain Rich~Creating Rain For Life~