Rain Rich can now install roof and gutter de-icing for snow removal and to prevent damage to your Long Island home and property. This past weekend we experienced one of the largest Long Island snow storms on record and many homes had several feet of snow on the roof. The snow melting during the day and freezing at night can cause serious damage to the roof and can even leak into your home.  This product and service will prevent damage by ice buildup in gutters, downspouts, and under roof shingles which can be very costly if not taken care of properly.  You cannot always see the ice that is the problem, as it is hidden under your roof shingles and in your gutters.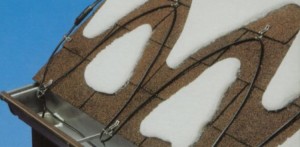 The heat will safely clear a path for water drainage and allow for melting water to flow off the roof and into gutters and leaders. The design adapts to most roof and gutter configurations. This product is intended for the sole use of preventing ice dams from forming on inclined roofs with tab shingles, in gutters and downspouts. This roof de-icing cable is not intended for use as a snow melting system or to clear roof of ice and snow. All components are made of the highest quality material and are tested during critical points in the manufacturing process. To view a video of how this product works please CLICK HERE.
If you would like a FREE estimate or would like to discuss any of the above, please do not hesitate to call us at (631) 423-2211, visit our website at www.rainrich.com or contact us by clicking here. You may also contact us via email at irrigationspecialist@rainrich.com.
Rain Rich Sprinklers has been serving Long Island for over 33 years.  Rain Rich prides itself on providing outstanding service and the best value.
Rain Rich~Creating Rain for Life