Drip Irrigation is becoming more popular due to the great water savings and the various applications it can be used for. This summer is one of the hottest on record with temperatures in the high 90's and water suppliers are trying to keep up with the high demand.
10 Benefits of Drip Irrigation:
Drip irrigation operates at low water pressure.
Drip irrigation waters at the root zone and drips out of tubing at a precise rate. There is no spraying of water.  This dramatically increases efficiency as well as keeping water off the leaves
which reduces the chance of mildew and fungus.
Drip irrigation is great for odd shape areas that are difficult to water using sprinkler heads. There is little to none water overlapping onto areas that should not be irrigated.
Drip Irrigation works great for border plantings, evergreens and vegetable gardens. When plants are mature there is a minimum requirement to modify a drip system.
Drip irrigation works great with fertilizer injection systems, fertigation, by applying fertilizer and bionutrients at very slow precise rate and at the root zone. There is no waste of water or fertilizer.
Commercial properties experiencing vandalism is costly and using drip irrigation which can be buried under the soil or mulch can greatly reduce maintenance costs for years to come.
Decreased energy costs.
Decreased labor costs.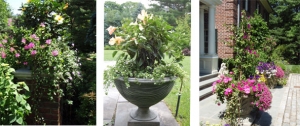 No more spending time outside during these hot summer days watering your landscape and potted plans!  More time for you!
These are just a few examples of the many great applications using drip irrigation to save water and costs during the lifetime of a sprinkler system. Please feel free to contact Rain Rich at (631) 423-2211 or email us at irrigationspecialist@rainrich.com.
Rain Rich Sprinklers has been serving Long Island for 31 years and prides itself on providing outstanding service and the best value.
Rain Rich ~Creating Rain For Life