Learn about the most recent pests on Long Island and what you can do about them!
The redheaded pine sawfly is the most common sawfly found infesting pines, and is very careful where to lay its eggs (mainly on hard pine). An adult sawfly looks just like a fly, except the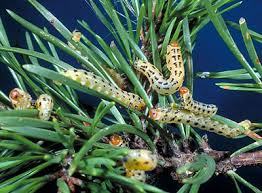 sawfly has two sets of wings. The newly hatched larvae are whitish, unspotted and have a black head, that will turn reddish brown. With a pair of black eye spots, the body turns greenish-yellow with rows of noticeable black spots. They will usually grow 1 – 1 ¼" long.  The sawfly larvae look like caterpillars, but they are actually larvae.  The newly hatched larvae strip the needle surface and leave straw-like remains. Older larvae will eat the entire needle to the stem. They prefer to eat the older needles of pine trees.  If the shrub or tree is completely bare the larvae will move to another shrub. If a small number of groups of larvae appear and are easily reached they may be handpicked, shaken off or pruned from the tree and discarded. If a large infestation is present insecticidal soaps may be effective if sprayed directly onto the larvae. For more information please read this article from BHG.
Boxwood Blight (also known as box blight) caused by the fungus Cylindrocladium pseudonaviculatum continues to be a serious fungal disease of boxwood in landscape that results in defoliation and decline of susceptible boxwood in landscapes. The blight begins with dark or light brown spots or lesions on leaves. The leaves typically turn brown or straw color, then fall off. The stems develop dark brown or black lesions.
There are many steps that can be taken to prevent the spread of the blight.
Inspect new plants and cuttings and only buy from reputable nurseries.
Isolate them for at least one month.
Avoid overhead watering.
Don't work with wet boxwood.
Never compost infected material.
If you see an infected plant:

Remove the whole plant and put it in a plastic bag. Do not carry it around uninfected plants.
Consult with a county agent or other expert to confirm the diagnosis.
Arborvitae Problems: "Tree of life" is also known as the Northern white cedar. This medium sized tree, that is slow growing has been used extensively to replace the adelgid-ravaged hemlocks of Long Island. Arborvitae has several serious insect and disease problems of its own which are on the rise due to arborvitae's sudden use for replacement plantings. Some problems include mites, scale, leafminer, bagworm and Pestalotiopsis. For more information, please visit Cornell Cooperative Extension.
The southern pine beetle, discovered on Long Island last year, until recently only had been spotted in pine forests in Suffolk County. According to Newsday, state officials said Thursday the beetle was found in a tree in Bethpage State Park. That tree, a pitch pine, was cut down and removed, along with 118 other infested trees in Belmont Lake State Park in North Babylon, Brookhaven State Park in Wading River and Heckscher State Park in East Islip, as well as Bayard Cutting Arboretum in Great River, said Randy Simons, spokesman for New York State Parks, Recreation & Historic Preservation.
For more information please visit, Cornell Cooperative Extension or Ogdens.
If you would like more information please contact us at Irrigationspecialist@rainrich.com or click here.